Woo hoo, nothing short of coolness! How to have different wallpaper / backgrounds in ubuntu hardy heron using compiz fusion.
Please read about the downside below

I used the compiz guide. Because it looks a lot more simple, I might have tried the Ubuntu Unleashed guide, but it was mysteriously gone. I will copy and paste it below.

I did get to compile from source which is pretty cool for an Ubuntu n00b like me.

If you do try out the multiple desktop wallpaper patches, I'd recommend printing out the instructions on the web page prior. Otherwise, I cut and pasted it into a text file (which I named, 'howto' on my desktop) and referred back to it using:

nano ~/Desktop/howto
I just pressed ctrl-x to exit nano and the instructions stayed up for me to refer to.
Don't make the mistake I did and not install CCSM before hand. Install first, go to the cube manager and add four files in the wallpaper manager:
ccsm>appearance>background images

When I first tried this out, the system hung and the was unresponsive. I logged out and logged back in - shit still the same. I disabled the cube and reenabled it and it worked! hence the, woo hoo!
Then,
I tried to go to 'places' - on the top desktop bar - and it had failed. so I tried the update code that the website prescribes:
sudo apt-get install nautilus gnome-core

Then the multiple wallpapers stopped working. ARGH!
The ubuntu unleashed post was gone, but the instructions on google reader were still available. And here they are:
1. Open up CCSM (Compiz Config Settings Manager)
Alt+F2 and type "ccsm" without quotes. Then click 'Run.'
2. On the left side, click the 'Desktop' button. Then on the right, choose 'Desktop Cube'.
(I am assuming your using the Desktop Cube.)
3. Go to the 'utility' tab.
4. check 'wallpaper' to enable it.
5. Add at least 4 different images (if you have 4 desktop sides enabled).
6. Once added, exit CCSM.

Finally, open up gconf-editor.
To open gconf-editor, type 'gconf-editor' (without 's) or Alt+F2 and type 'gconf-editor' without quotes. Then click 'Run.'

In the configuration editor, navigate to: / > apps > nautilus > preferences.

Scroll down on the right side and uncheck 'show_desktop'.

Your done! Your desktop should show 4 different wallpapers, 1 for each desktop/workspace!

I took the last lines of the instructions about
gconf-editor
and I got my 4 wallpapers back.
here's the important thing you need to read.
While everything works, you won't (at least in Hardy Heron) have desktop icons. I have decided that I can access them through nautilus without needing to see them on the actual desktop, so I don't care.
That's been my experience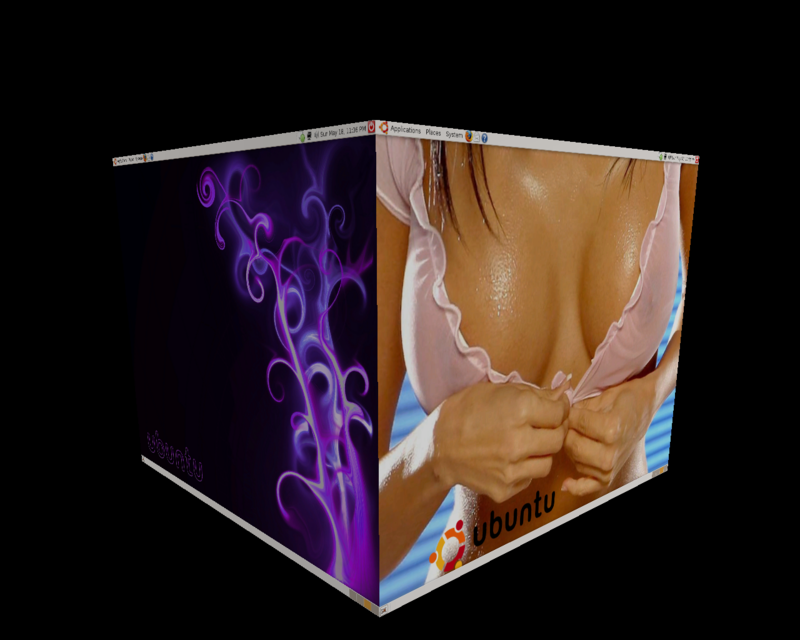 D9C
At first it was kinda buggy and slow, but I logged out and logged back in, turned the cube off and back on that seemed to fix things.